May 2010
Perhaps, my first book may come out through BookSurge. http://www.booksurge.com/ I didn't study about it thoroughly, but I think it might be a nice option rather than finding a publisher. I can prove myself through my writing at this site and the book. The essence is that I should become a writer. It may be nice if I can find someone who can write and publish with me.
출처: 네이버 책 (http://blog.naver.com/onlynanum/20104048436)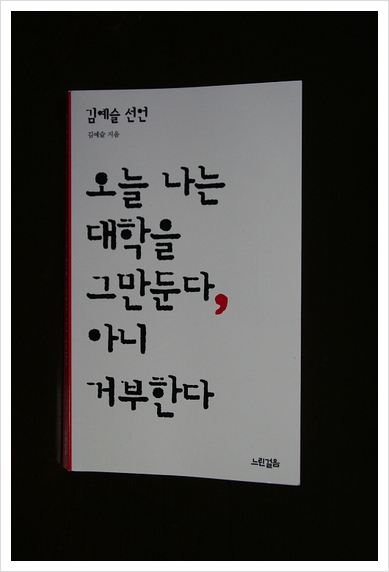 내 블로그에 영혼이 담긴 삶을 사는 사람들의 흔적을 남기고 싶었다.
얼마 전, 고려대 경영학과 김예슬 양의 자퇴선언으로 세상이 떠들썩한 적이 있었다. 한국의 상황에서는 이것은 엄청난 사건이었다. 아이들이 초등학교 혹은 그 이전부터 오로지 명문대 진학을 위해 사회의 모든 것이 맞추어져 있다. 부모도, 아이도, 사회도, 교사도 할 것 없이.
Source: http://www.nytimes.com/2006/02/05/books/review/05donadio.html
I met Malcome Gladwell as his audience in 2003 when I first attended the ASTD international conference where he delivered a keynote speech on Tipping Point. I knew that he did some inspirational works, and I was just impressed by the title of his relatively recent book, Outliers without even reading the content.